Original Works by Anthony Baglino

The soul and spirit meet yet are exclusive to the individual. The boundaries drawn do not allow access except in the imagination. The mind explores extra-dimension while limited to its own physics dimension. Without spirit (amplified by Spirit) our universe has no eyes to see another. Surrealism is the language.

Our limitations are by design. The testability of extra dimensions is limited to the tools of our 4 dimensions. Therefore, only the Spiritual element (amplified) may transcend to verify the reality of that which is beyond space-time!

Reconstitution of a host body requires an elite and uniquely 'Engineered' physics that can not be provided by the fleeting spirit's power to will… Hence, an Architect causing and effecting outside Space/Time. This is the language of surrealism.


The Science of Chaos - Acrylic on Canvas - $4,500.
48" x 36"SOLD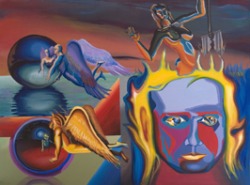 Enigma of Singuarlity - Acrylic on Canvas -$5,500.
60" x 48"